2013 | OriginalPaper | Buchkapitel
43. Knowledge-Based Information Systems: A Wind Farm Case Study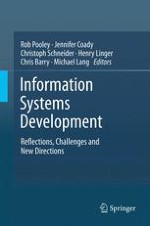 Erstes Kapitel lesen
Autoren: Bindi Chen, William Wei Song, Yanhui Feng, Yingning Qiu, Peter Tavner
Verlag: Springer New York
Abstract
The process of information systems development (ISD) has been studied before to enhance generated information systems. It has been recognised recently that the use of knowledge management (KM) methodologies in ISD, so-called knowledge-based information systems (KIS), supports the acquisition and representation of knowledge, both from application domains and development processes. This is important when huge amounts of data from application domains require processing and massive knowledge is buried in the processes. A particular example of this problem lies in the wind industry, where offshore wind farms collect a massive amount of data, yet there is a lack of knowledge about the processes generating the data, which is overwhelming operators. However, there is a gap between KM and ISD, which still needs to be closed.
This chapter will attempt to bridge this gap in a step-by-step manner to analyse information to create knowledge in the following way.
Firstly, within the framework, we consider an organisation as a complex intelligent agent to handle internal and external information.
Secondly, we consider how the KM methods can be integrated with ISD, through those intelligent agents or multi-agents, to handle the domain and process knowledge.
Finally, we define a conceptual model of a KIS to support the ISD to derive enterprise-wide knowledge, experience and decision-making in a data-intensive and complex wind farm management. We develop a prototype KIS model and implement it on working wind farm data to evaluate and validate the proposed approach.