2019 | OriginalPaper | Buchkapitel
Knowledge Governance Helps Minimizing the Risks of External Knowledge Transfer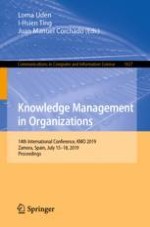 Erstes Kapitel lesen
Autoren: Reinhard Bernsteiner, Johannes Strasser, Christian Ploder, Stephan Schlögl, Thomas Dilger
Abstract
Initiatives to cooperate with external stakeholders are set up by more and more companies. The intention of those initiatives is to get a better understanding of market developments and new technologies very quickly. This should improve innovation processes which should lead a competitive advantage.
Transferring knowledge from the company to external stakeholders is required in order to enable them to contribute in the innovation project effectively. This knowledge transfer incorporates risks in terms of knowledge leakage, which can easily harm an organization.
This paper focusses on the risks of external knowledge transfer and potential countermeasures. Based on a literature review an empirical survey was conducted. A qualitative research approach was used to gain diversified opinions and insights on the research domain.
The results show that the experts are highly aware of the potential risks that go in line with knowledge transfer initiatives for example in the context of open innovation settings. Countermeasures are proposed in literature and by the participants of the survey.
Consequently, the study reveals that knowledge governance processes, that are part of a comprehensive knowledge management system, have to be implemented. They are intended to avoid unintentional knowledge leakage and guide knowledge transfer processes.