2014 | OriginalPaper | Buchkapitel
7. Kodaira-Spencer Formality of Products of Complex Manifolds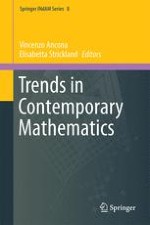 Erstes Kapitel lesen
Autor: Marco Manetti
Abstract
We shall say that a complex manifold
X
is
Kodaira-Spencer formal
if its Kodaira-Spencer differential graded Lie algebra
A
X
0, ∗
(
Θ
X
) is formal; if this happen, then the deformation theory of
X
is completely determined by the graded Lie algebra
H
∗
(
X
, 
Θ
X
) and the base space of the semiuniversal deformation is a quadratic singularity. Determine when a complex manifold is Kodaira-Spencer formal is generally difficult and we actually know only a limited class of cases where this happen. Among such examples we have Riemann surfaces, projective spaces, holomorphic Poisson manifolds with surjective anchor map
H
∗
(
X
, 
Ω
X
1
) → 
H
∗
(
X
, 
Θ
X
) [4] and every compact Kähler manifold with trivial or torsion canonical bundle, see [9] and references therein. In this short note we investigate the behavior of this property under finite products. Let
X
, 
Y
be compact complex manifolds; we prove that whenever
X
and
Y
are Kähler, then
X
×
Y
is Kodaira-Spencer formal if and only if the same holds for
X
and
Y
(Corollary 7.2). A revisit of a classical example by Douady shows that the above result fails if the Kähler assumption is dropped.