2019 | OriginalPaper | Buchkapitel
3.
La Bestia

as Transpacific Phenomenon: Indigenous Peoples' Camps, Violence, Biopolitics, and Agamben's

State of Exception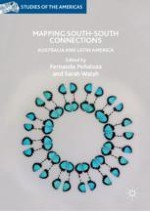 Erstes Kapitel lesen
Autor: Victoria Grieves-Williams
Abstract
This chapter establishes a transpacific epistemological connection through the exploration of often surprising parallels that exist between Indigenous peoples of Australia and those of Mexico and Central America. An insider, Indigenous knowledge's framework for understanding and theorising the phenomenon, recognised and named by the people themselves as
la Bestia
, reveals the redundancy of modernist, neo-liberal interpretations of Indigenous disadvantage. Indigenous people in the settler colonial states of Mexico and Australia are caught by forces beyond their immediate control, overwhelming push factors, that see them abandon contexts within their ancestral country where they are no longer sustained physically and spiritually, to seek a life elsewhere. In both locations across the Pacific this process has seen the lives of many Indigenous people lived out precariously in "camps"; this phenomenon is a reflection of the nature of the modern democratic states that have developed on their lands. This is best described as living in a state of exception, following the theory of Giorgio Agamben.