06.04.2017 | Ausgabe 7/2017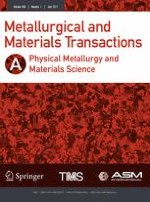 LaCrO3/CuFe2O4 Composite-Coated Crofer 22 APU Stainless Steel Interconnect of Solid Oxide Fuel Cells
Zeitschrift:
Autoren:

Seyedeh Narjes Hosseini, Mohammad Hossein Enayati, Fathallah Karimzadeh, Amir Masoud Dayaghi
Wichtige Hinweise
Manuscript submitted July 22, 2016.
Abstract
Rapidly rising contact resistance and cathode Cr poisoning are the major problems associated with unavoidable chromia scale growth on ferritic stainless steel (FSS) interconnects of solid oxide fuel cells. This work investigates the performance of the novel screen-printed composite coatings consisting of dispersed conductive LaCrO3 particles in a CuFe2O4 spinel matrix for Crofer 22 APU FSS, with emphasis on the oxidation behavior and electrical conductivity of these coatings. The results show that the presence of protective spinel coating, accompanied by the effective role of LaCrO3 particle incorporation, prevents the Cr2O3 subscale growth as well as chromium migration into the coating surface at the end of 400 hours of oxidation at 1073 K (800 °C) in air. In addition, the composite coatings decreased the area specific resistance (ASR) from 51.7 and 13.8 mΩ cm2 for uncoated and spinel-coated samples, respectively, to a maximum of 7.7 mΩ cm2 for composite-coated samples after 400 hours of oxidation.