2018 | OriginalPaper | Buchkapitel
11. Laïcité in the Low Countries? On Headscarves in a Neutral State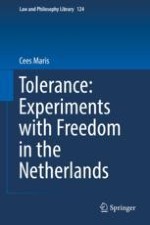 Erstes Kapitel lesen
Autor: Cees Maris
Abstract
This chapter concerns the neutrality of the state with regard to religion, in particular to Islam. It confronts Dutch legal culture, where tolerance and equality play an important role, with the French model of
laïcité
, or state secularism. The latter emphasizes the importance of strict state neutrality, which has resulted in a legal prohibition of Islamic headscarves at public schools and other public institutions. In the Netherlands, Muslim women are allowed to wear headscarves in public institutions, with the exception of members of the judiciary.
The best solution to the headscarves question is to be found in a balanced synthesis of French absolutist secularism and Dutch tolerant pluralism. In their private domain Muslim women are free to dress as they wish. In the judiciary, strict exclusive neutrality is essential: social peace requires a public body that settles conflicts between citizens by impartial arbitration. Therefore, conspicuous religious symbols should be avoided. By placing other social positions on a
Laicity Scale
between both extremes, it is possible to differentiate by reference to context. Pupils at public schools are primarily private individuals who should be allowed to wear religious symbols. Allowing religious symbols at public schools prepares the pupils for the cultural and religious diversity that awaits them in the grown-up world.