2019 | OriginalPaper | Buchkapitel
3. Landscape-ecological Analyses in LANDEP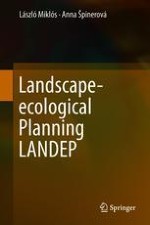 Erstes Kapitel lesen
Autoren: László Miklós, Anna Špinerová
Abstract
In the planning processes, there is usually no time devoted for own analysis, therefore, in the planning existing analytical materials are used that should be adapted to their particular needs.
Re-assessment and homogenization
of the existing results of a wide variety of specialised research are the objective and the content of the LANDEP analyses. The analyses in LANDEP are arranged according to the structures of the landscape as a geosystem. However, the very first input into the LANDEP process is defined by delimitation of the area of the territory of interest. Analyses of the
primary landscape structure
relate, in particular, to the analysis of the abiotic elements of geosystems. The most frequently used indicators of landscape properties for deciding on the optimal landscape use are to be chosen from the following subcomplexes:
subcomplex substrate–soil–underground water: most commonly used indicators are depth, skeletality and texture of the substrate and soils, subsurface water depth;

subcomplex relief—slope dynamics: especially slope inclination, curvature and relief forms, topographic position, slope length;

subcomplex relief—dissection: morphological and morphometric relief types.

subcomplex surface water: hydrographic characteristics of river-basins and their subdivision, hydrological characteristics of flows and lakes;

subcomplex (micro) climate: especially relief orientation to the cardinal points, insulation and shadowing, characteristics of climate of geographical regions.
The secondary landscape structure is for the purposes of LANDEP referred to as
the current landscape structure
. It consists of the elements that are partially or fully affected, modified or made by man and currently cover the earth surface These elements are characterized most often according to their
functional character as land-use forms,

biological–ecological content, as physiognomic-ecological formations of actual vegetation,

biotopes, or habitats for fauna.
Analyses of the
tertiary landscape structure
deal with the socio-economic factors/phenomena, which are nonmaterial, intangible in nature, they only occur in various laws, standards, regulations and other development documents. Nevertheless, they can be mapped or projected onto a map, and thus allow the determination of their spatial encounters and even conflicts in the landscape. According to their nature, SEF mapping units have the form of the following:
borders and territories of nature conservation and protected natural resources areas;

protective, safety and sanitary zones of production, transport and other technical facilities;

borders of administrative units and borders of other sectorial territorial units;

borders of areas of declared territories with deteriorated state of the environment.
A specific part of the analyses is devoted to the definition of the desired human activities which enter to the planning procedure. The chapter is illustrated by numerous tables and maps.