2019 | OriginalPaper | Buchkapitel
2. Landscape-ecological Planning, LANDEP—A Tool for the Ecologisation of Spatial Planning Processes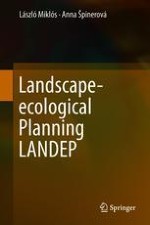 Erstes Kapitel lesen
Autoren: László Miklós, Anna Špinerová
Abstract
The basic principle of the landscape-ecological foundations of the environmental care is the integration of landscape-ecological ideas into the current planning processes—especially to the territorial planning, land-use, agricultural and forest management planning, and projecting. This integration is referred to as
ecologisation of landscape management
, more precisely: ecologisation of spatial organisation, utilisation and protection of landscape. These ecologisations have two main aspects: confrontation of societal demands for territorial development with the conditions of the landscape, which constitute limiting, restricting or promoting development regulations, and subsequent harmonisation of optimal arrangement of various activities in the concrete territory. LANDEP recognises these two basic stages of its methodology, as:
spatial–organisational

—proposal for ecologically optimal organisation, utilisation and protection of the landscape—the output has a character of management of 'space';

functional–technological

—proposal for relevant measures to ensure ecologically optimal "technology" of the performance of various activities within the areas delineated in the spatial-organisational step. This problem circle belongs partially to the competencies of respective sectors.
The main methodical principles in one sentence can be expressed as the confrontation and harmonisation of
all properties of a landscape
, with the
entire complex of demanded social activities
for the
entire concerned territory
. The methodology and methods in LANDEP can theoretically be derived into elementary steps from reverse analysis from final goals to start as follows:
The ultimate goal of LANDEP is the ecologically optimal functional organisation of the landscape for human activities in the form of proposals—the step marked as

propositions

.

The proposals need to determine the suitability of each element of the landscape for different activities from different perspectives—the step marked as

evaluation

.

The evaluation's relevant information about the landscape—special-purpose criteria—interpreted indicators of landscape features derived from the basic data synthesised in geocomplexes. This step is called

interpretation

.

The interpretations need to describe the landscape features comprehensively—in types and regions of landscape-ecological complexes, created within the process called as landscape-ecological

synthesis

.

For the purpose of the synthesis, we must obtain the necessary information about the landscape properties. The process of their acquisition, modification and homogenization are represented by the step named as landscape-ecological

analysis

.
Obviously, the real landscape-ecological planning proceeds in opposite order as analyses–syntheses–interpretations–evaluations–propositions.