2017 | OriginalPaper | Buchkapitel
Landscape: The
Thing

About Landscape's Nature: Is It a Creature/Monster of the Map?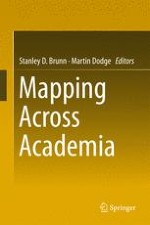 Erstes Kapitel lesen
Autor: Kenneth R. Olwig
Verlag: Springer Netherlands
Abstract
Is the nature of landscape something that can be mapped, or is the landscape itself a thing or creature of the map? Or perhaps even a "monster" of the map? These are questions around which landscape studies have revolved in recent years. In this chapter I trace the two sides of the question and provide a capsule history of contemporary geographical scholarship, focusing on the contributions of Carl Sauer and European geographers. This landscape approach still dominates much of continental and especially German geography, but in Anglo-America it has declined and landscape has come to be seen not so much as some
thing
you can map, but rather as a thing of the map, that is, a creature born of cartography. I suggest a third alternative, which opens up new ways of thinking about things, nature, landscape and mapping. Maps are foundational pieces in the study of traditional and also postmodern and "non-modernist" landscape which in contemporary geography is concerned with the social bases for things governing and historically developing inter-relationships between society and nature—this is the thing about lansdscape.