01.06.2016 | Thematic Issue | Ausgabe 11/2016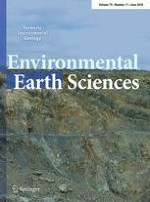 Landslide susceptibility mapping based on global and local logistic regression models in Three Gorges Reservoir area, China
Zeitschrift:
Autoren:

Miao Zhang, Xuelian Cao, Ling Peng, Ruiqing Niu
Wichtige Hinweise
This article is part of a Topical Collection in Environmental Earth Sciences on ''Environmental Research of the Three Gorges Reservoir'', guest edited by Binghui Zheng, Shengrui Wang, Yanwen Qin, Stefan Norra, and Xiafu Liu.
Abstract
This paper investigates the spatial stationarity of the relationship between landslide susceptibility and associated factors in Three Gorges Reservoir area, a landslide-rich area in China. Two logistic regression (LR) models have been used: A global LR (LR) assumes that the regression coefficients remain constant over the whole region, whereas a geographically weighted LR (GWLR) allows the regression coefficients to differ at the local scale. In LR model, lithology seems to have positive influence on the location of landslides, as it has a positive regression coefficient (0.005), while the other factors all have negative effects on landslide susceptibility as they all have negative coefficients. However in GWLR model, lithology does not always keep positive influence, as its coefficients range from −0.533 to 0.695. These results indicate a degree of spatial variation in the relationship between landslide susceptibility and the influencing factors in the study area. Furthermore, six evaluation criteria, based on the fit and complexity of the models, were used to compare the two approaches: deviance, corrected Akaike's information criterion (AICc), local percent deviance explained (pdev), receiver operating characteristic curve (ROC), Bayesian information criterion (BIC), and residual Moran's I. The results suggest that GWLR model provides potential advantages in landslide susceptibility mapping and sheds new light on the spatial non-stationarity of the relationship between landslide susceptibility and its influencing factors.