2014 | OriginalPaper | Buchkapitel
Landslide Susceptibility Modeling on Regional Scales: The Case of Lower Saxony, NW Germany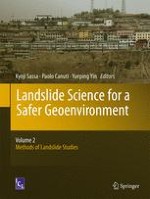 Erstes Kapitel lesen
Autoren: Martin Klose, Daniel Gruber, Bodo Damm, Gerhard Gerold
Abstract
This paper presents a regional landslide susceptibility model for the Federal State of Lower Saxony, NW Germany. A modified Information Value approach has been developed, which uses bivariate statistics to identify the spatial probability of landslide occurrence. To optimize the approach for regional applications, several modifications have been made: landslide pixel mapping is replaced by point representation and the weighting function uses landslide densities based on attribute areal coverage. The input data of the landslide susceptibility model include a spatial inventory of about 900 landslides and different data sets of geomorphometry, lithology, and land use.
The model predicts that about 2 % of Lower Saxony shows significant landslide susceptibility. Most of the unstable terrain is concentrated in three key areas in the Lower Saxon Uplands. The spatial patterns of landslide susceptibility are strongly correlated with the regional relief. The most relevant predisposing factors are slope gradients between 21° and 49° as well as different types of Mesozoic sedimentary rock, especially lime- and claystone formations. In conformity with lithology, land use can be of stabilizing or destabilizing influence, but its significance is less important.
The developed approach provides the capability to manage critical problems of regional data processing and proves to be an effective modeling tool for regional applications. Although the model validation indicates good predictive power and high spatial accuracy, the study has shown that regional landslide susceptibility modeling has major data-related and conceptual deficits. Some of these shortcomings are discussed in this paper in detail.