2012 | OriginalPaper | Buchkapitel
Lane Change Assistance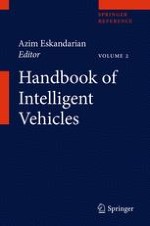 Erstes Kapitel lesen
Autoren: Dr. Arne Bartels, Dr. Marc-Michael Meinecke, Simon Steinmeyer
Verlag: Springer London
Abstract
More than 5% of all accidents involving injury to people take place as the result of a lane change. Therefore, it is sensible to provide the driver with a lane change assistant in order to provide support in this driving maneuver.
ISO standard 17387 "Lane Change Decision Aid System" differentiates between three different types of system: The "Blind Spot Warning" monitors the blind spot on the left and right adjacent to the driver's own vehicle. The "Closing Vehicle Warning" monitors the adjacent lanes to the left and right behind the driver's own vehicle in order to detect vehicles approaching from behind. The "Lane Change Warning" combines the functions of "Blind Spot Warning" and "Closing Vehicle Warning."
Almost all major vehicle manufacturers are now offering systems that assist the driver to change lanes. Systems with "Blind Spot Warning" are available from Ford, Jaguar, Mercedes-Benz, Nissan/Infiniti, Peugeot, and Volvo. Systems with "Lane Change Warning" are available from Audi, BMW, Mazda, and VW. All vehicle manufacturers use an optical display in or near to the exterior mirrors in order to show information for the driver. The majority of vehicle manufacturers use radar sensors that are installed in the rear of the vehicle. Two-level, escalating driver information is only offered in some of the systems. The type of escalation (optical, acoustic, tactile, lateral guidance intervention) usually differs from one vehicle manufacturer to another.
The performance capability of the lane change assistants described above is already quite considerable. However, all of these systems have their limits, and the vehicle manufacturers need to inform drivers of these in the owner's manual, for example.