10.02.2020 | ICFSMA 2019 | Ausgabe 1/2020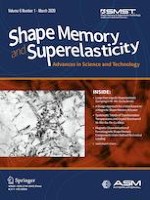 Large Non-ergodic Magnetoelastic Damping in Ni–Mn–Ga Austenite
Zeitschrift:
Autoren:

Lucie Bodnárová, Petr Sedlák, Oleg Heczko, Hanuš Seiner
Wichtige Hinweise
This article is an invited submission to
Shape Memory and Superelasticity
selected from presentations at the International Conference on Ferromagnetic Shape Memory Alloys (ICFSMA) held on June 2–7, 2019, in Prague, Czech Republic, and has been expanded from the original presentation.
Publisher's Note
Springer Nature remains neutral with regard to jurisdictional claims in published maps and institutional affiliations.
Abstract
Resonant ultrasound spectroscopy was used to analyze magnetoelastic damping in Ni–Mn–Ga single crystals in austenite and premartensite phases. Crystals with different treatment were studied, exhibiting different density of antiphase boundaries (APBs), as confirmed by magnetic force microscopy, and different magnetic behavior. For a quenched single crystal with high density of APBs, extremely strong damping was observed in a broad temperature range in the austenite phase. It was shown that this damping is history-dependent, i.e., non-ergodic, appearing only during heating runs preceded by a premartensite → austenite transition. We suggest that this non-ergodicity results from the pinning of the fine magnetic domain structure on APBs and other defects.