2018 | OriginalPaper | Buchkapitel
Laser-Based Cell Printing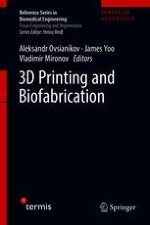 Erstes Kapitel lesen
Autoren: Lothar Koch, Andrea Deiwick, Boris Chichkov
Abstract
The development of reproducible well-defined 3D cell models is a key challenge for the future progress in tissue engineering. The structural dimensions in natural tissue are significantly lower than 100 μm. Thus, the ability to precisely position different cells in complex 3D patterns is of essential importance, even if it is not fully determined which precision or resolution is really required.
This chapter discusses laser-based techniques for printing living cells in two- or three-dimensional patterns. One method known as laser-guided direct writing has been used to position individual cells in a cell medium bath by applying the laser optical tweezer technique.
A more common method applies the laser-induced forward transfer (LIFT) for cell printing. For this method, many different designations are used like biological laser printing (BioLP), laser-assisted bioprinting (LAB, LaBP), or matrix-assisted pulsed laser evaporation - direct write (MAPLE-DW). There are also some technical differences in the realization of cell printing with this method that are discussed in this chapter. Applications like printing of multicellular arrays, stem cell grafts, and tissue as well as in situ printing will be presented.