2006 | OriginalPaper | Buchkapitel
Lateral-Torsional Buckling Analysis of Web-Tapered I-Beams Using Finite Element and Spline Collocation Methods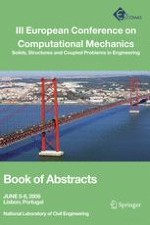 Erstes Kapitel lesen
Autoren: Anísio Andrade, Paulo Providência e Costa, Dinar Camotim
Verlag: Springer Netherlands
Tapered members are widely used in the steel construction industry, because of their structural efficiency, ability to meet architectural and functional requirements and competitive fabrication costs. According to the current design codes, the load-carrying capacity of laterally unsupported beams (either prismatic or tapered) bent in their stiffer principal plane is estimated on the basis of their cross-sectional and elastic lateral-torsional buckling resistances. Bearing this in mind, two of the authors have recently proposed and validated a one-dimensional model to characterise the elastic lateral-torsional buckling behaviour of tapered thin-walled open beams [
1
]. This model can be described as a kinematically constrained version of a nonlinear shell model and, from a mathematical viewpoint, it amounts to a self-adjoint eigenvalue problem for a system of ordinary differential equations and separated boundary conditions.
Numerous numerical methods are available for the solution of such an eigenvalue problem. Among the structural engineering community, the finite element method (FEM) is unquestionably the most popular one. The FEM is based on a variational (or weak) form of the problem, which involves lower-order derivatives than the classical (or strong) form and, therefore, poses less stringent continuity requirements. Moreover, it allows for a very simple and flexible geometrical description of irregular-shaped domains. However, these two features, which are responsible for the key role played by the FEM in solving boundary value problems for partial differential equations, are not essential in the case of ordinary differential equations: the construction of a high-order spline basis, for instance, is more or less straightforward and special geometrical flexibility is not needed. Therefore, it appears to be worth investigating other numerical approaches and, in this context, the collocation method seems particularly promising.
The paper begins by specialising the one-dimensional mathematical model for doubly symmetric webtapered I-section cantilevers acted by tip point loads. Two distinct numerical approaches are then considered, namely (i) the development of a conforming displacement finite element model, tailor-made for this specific problem, and (ii) the use of a general purpose code (COLSYS) based on spline collocation at Gaussian points and designed to solve nonlinear multi-point boundary value problems for mixed-order systems of ordinary differential equations. The paper closes with the presentation of some numerical results and an appraisal of the relative merits of the two approaches.