01.08.2016 | Original Paper | Ausgabe 22/2016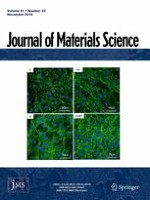 Layered NH4Co

x

Ni1−

x

PO4·H2O (0 ≦
x

≦ 1) nanostructures finely tuned by Co/Ni molar ratios for asymmetric supercapacitor electrodes
Zeitschrift:
Autoren:

Qi Li, Yanhong Li, Huarong Peng, Xun Cui, Ming Zhou, Keyuan Feng, Peng Xiao
Wichtige Hinweise
Electronic supplementary material
The online version of this article (doi:
10.​1007/​s10853-016-0151-x
) contains supplementary material, which is available to authorized users.
Qi Li and Yanhong Li have contributed equally to this work.
Abstract
The synergetic effects of mixed transition metal compounds have demonstrated great potential in improving the electrochemical performance of materials. In this work, large scale of ammonium/bimetallic phosphates (NH
4
Co
x
Ni
1−

x
PO
4
·H
2
O) with layered nanostructures are synthesized by a facile one-step solvothermal method. The tuning effects of Co/Ni molar ratios on the crystal structure and morphology of NH
4
Co
x
Ni
1−

x
PO
4
·H
2
O are systematically studied by XRD, FTIR, SEM, TEM. It is revealed that the synergistic effects of cobalt and nickel may significantly influence the crystal structure and morphologies of NH
4
Co
x
Ni
1−

x
PO
4
·H
2
O, exposing more CoO
6
and NiO
6
octahedra active sites for redox reactions, improving the surface coverage of the redox species. Electrochemistry tests prove that the sample with a Co/Ni ratio of 2:3 which has layered nanoplate structure and abundant uniform pores, and exhibits the highest specific capacitance of 1567 F g
−1
at 1 A g
−1
and long-term cycling stability of 97.6 % compared with single-component ammonium nickel or cobalt phosphate hydrate. An asymmetric cell is constructed using NH
4
Co
x
Ni
1−

x
PO
4
·H
2
O (Co/Ni 2:3) and activated carbon with an operation potential from 0 to 1.65 V. This asymmetric device presented a high energy density of 37.4 Wh kg
−1
at a power density of 826 W kg
−1
. More importantly, the device also displayed a good long-term cycling stability with 91.2 % capacity retention after 5000 cycles.