01.08.2010 | LCI MODELLING | Ausgabe 7/2010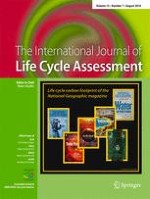 LCI modelling approaches applied on recycling of materials in view of environmental sustainability, risk perception and eco-efficiency
Zeitschrift:
Autor:

Rolf Frischknecht
Wichtige Hinweise
Responsible editor: Hans-Jürgen Garvens
Abstract
Purpose and scope
Two ISO-compliant approaches on modelling the recycling of plastics and metals are frequently applied in life cycle assessment case studies and intensively debated: the recycled content or cutoff approach and the end of life recycling or avoided burden approach. This paper discusses the two approaches from three different perspectives: (1) the kind of sustainability concept served, (2) the risk perception involved and (3) the eco-efficiency indicators resulting from the two approaches.
Results and discussion
The analysis shows that the
recycled content
approach serves the strong sustainability concept. It is based on a risk-averse attitude and results in higher eco-efficiency of metal scrap recycling as compared to primary metal manufacture. The
end of life recycling
approach serves the weak sustainability concept (losses in natural capital can be compensated by man-made capital). It corresponds to a risk-seeking attitude and results in higher eco-efficiency of primary metal manufacture as compared to secondary metal production.
Conclusions
It is concluded that a harmonisation of the approaches is hardly possible due to the value choices involved. It is the task of (private and public) life cycle assessment commissioners to decide on the appropriate modelling approach. National authorities may have a rather long-term and risk-averse perspective, whilst industries may prefer a short-term perspective leading them to select the recycled content and end of life recycling approach, respectively. Life cycle inventory databases need to be flexible to serve such opposing perspectives and to enable practitioners to adapt the modelling approaches according to the needs of the commissioner.