17.07.2015 | ORIGINAL ARTICLE | Ausgabe 1/2017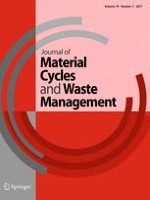 Leaching characteristics of the fine fraction from an excavated landfill: physico-chemical characterization
Zeitschrift:
Autoren:

Fabio Kaczala, Mohammad Hadi Mehdinejad, Allar Lääne, Kaja Orupõld, Amit Bhatnagar, Mait Kriipsalu, William Hogland
Abstract
Leaching of fine fraction (<10 mm) obtained from landfill mining activities in an Estonian landfill was done. On-site excavation was carried out in four test pits (TP
1
, TP
2
, TP
3
, TP
4
) that were further divided in four layers (
L
1
,
L
2
,
L
3
,
L
4
). Total chemical oxygen demand (COD
t
), dissolved chemical oxygen demand (COD
d
), total organic carbon (TOC), dissolved organic carbon (DOC) and metals (Zn, Cu, Pb and Cd) were analyzed. The results showed that approximately 70 % of COD
t
were in particulate/colloidal state. The TOC released ranged between 2326 and 3530-mg/kg dry matter for test pits suggesting spatial differences in the studied landfill. DOC ranged between 365–874 and 317–940 mg/kg for different test pits and sampling layers, respectively. Low average leaching rates of metals were observed (0.2–1.5 %). Pb had a significantly higher average leaching rate (1.0 %) compared to Zn (0.70 %) and Cu (0.35 %). The potential use of COD
t
as a surrogate indicator of TOC, DOC and Zn on the basis of high correlation coefficients was observed. To conclude, the implementation of adequate strategies to manage fine-grained fractions obtained from excavated waste relies on physico-chemical characterization of both the fine fractions itself and the leachate generated during storage and use.