2017 | OriginalPaper | Buchkapitel
Leading in Extremis Situations: How Can Leaders Improve?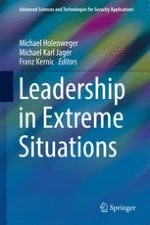 Erstes Kapitel lesen
Autoren: Deirdre P. Dixon, Michael R. Weeks
Abstract
In extremis
leadership is a situation in which the leader's life and those of his/her team are, or are perceived to be, in danger. Because dangerous situations are difficult to study, and most of the literature is theoretical, little is known about how leaders communicate with their teams and make sense of these contexts. We proposed research to address this gap and understand how leaders sensemake in
in extremis
situations and sensegive to their teams and how this affects
in extremist
situation outcomes. Our study was a qualitative study of thirty US Army leaders from West Point who recently have returned from combat tours in the Middle East. Our data demonstrate that sensemaking and sensegiving in that context differ from those processes in more commonly studied benign situations. We found that leaders who have mental flexibility, sense of duty, and self-confidence were the best prepared for these dangerous situations. Our study has implications for both theory and practice.