2017 | OriginalPaper | Buchkapitel
Learning Fuzzy Models with a SAX-based Partitioning for Simulated Seizure Recognition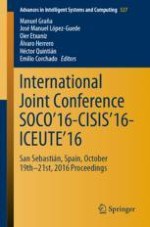 Erstes Kapitel lesen
Autoren: Paula Vergara, José Ramón Villar, Enrique de la Cal, Manuel Menéndez, Javier Sedano
Abstract
Wearable devices are currently used in researches related with the detection of human activities and the anamnesis of illnesses. Recent studies focused on the detection of simulated epileptic seizures have found that Fuzzy Rule Base Classifiers (FRBC) can be learnt with Ant Colony Systems (ACS) to efficiently deal with this problem. However, the computational requirements for obtaining these models is relatively high, which suggests that an alternative for reducing the learning cost would be rather interesting. Therefore, this study focuses on reducing the complexity of the model by using a discretization technique, more specifically, the discretization proposed in the SAX Time Series (TS) representation.
Therefore, the very simple discretization method based on the probability distribution of the values in the domain is used together with the AntMiner+ and a Pittsburg FRBC learning algorithm using ACS. The proposal have been tested with a realistic data set gathered with participants following a very strict protocol for simulating epileptic seizures, each participant using a wearable device including tri-axial accelerometers placed on the dominant wrist.
The experimentation shows that the discretization method has clearly improved previous published results. In the case of Pittsburg learning, the generalization capabilities of the models have been greatly enhanced, while the models learned with this partitioning and the AntMiner+ have outperformed all the models in the comparison. These results represent a promising starting point for the detection of epileptic seizures and will be tested with patients in their own environment: it is expected to start gathering this data during the last quarter of this year.