01.09.2015 | Original Paper | Ausgabe 10/2015 Open Access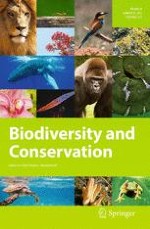 Legal implications of range expansions in a terrestrial carnivore: the case of the golden jackal (
Canis aureus

) in Europe
Zeitschrift:
Autoren:

Arie Trouwborst, Miha Krofel, John D. C. Linnell
Wichtige Hinweise
Communicated by Dirk Sven Schmeller.
Introduction
In the face of global environmental change there is an expectation that many species will begin or continue shifting their distributions (Dormann
2007
). Diverse mechanisms may drive these shifts, including climate change, habitat alteration, and management policy changes (Parmesan and Yohe
2003
; Monzón et al.
2011
). Irrespective of the underlying mechanism, species are increasingly appearing in places where they have not previously occurred. On an ecological level this leads to the creation of novel ecosystems (Hobbs et al.
2013
). Additionally, these changes create challenges for management and policy, especially for species associated with conflicts (Redpath et al.
2013
) and/or whose management is influenced by international legal instruments (Cliquet et al.
2009
; Trouwborst
2013
,
2014d
). The golden jackal (
Canis aureus
) in Europe is one such species.
The European distribution of this medium-sized mammalian carnivore has traditionally been restricted to the continent's southeast. In the second half of the nineteenth century, the population started expanding in the southeastern Balkans and along the Danube basin as far as Hungary (Tóth et al.
2009
). Since the mid-twentieth century, golden jackals have been expanding further northward and westward, appearing in areas and countries where they had not been recorded before. Jackals have been recently sighted as far west as Switzerland and as far north as Estonia. Continuation of this expansion appears likely (Arnold et al.
2012
). It is still not certain what factors actually drive it, although we highlight some possible factors below.
For wildlife conservation and management authorities the arrival of golden jackals may generate various policy relevant questions for which the answers are not immediately obvious, and are influenced by international wildlife conservation legislation. Golden jackals have not yet attracted much research attention in Europe from either ecological or policy perspectives. This contrasts with the larger carnivores that have been subject to considerable attention in recent years from a diversity of disciplinary perspectives (Linnell et al.
2008
; Chapron et al.
2014
) and where the potential tensions between national objectives and international obligations have constituted a central focus (Trouwborst
2014c
; Darpö and Epstein
2015
).
Against this background, we aim to contribute to help clarify the implications of applicable international legal instruments for the conservation and management of golden jackals—and by implication other expanding species—in Europe. This includes addressing the following questions. Does the golden jackal constitute an (invasive) alien species in countries without prior records of its presence? What are the obligations regarding the conservation of golden jackals of states where the species presently occurs and of states being (re)colonized by the species? How much difference does it make for the answer to these questions whether jackals historically occurred in a country? What is the appropriate response if jackals hybridise with wolves (
Canis lupus
) or domestic dogs (
Canis familiaris
)? Besides these questions of international and European law, we also examine the golden jackal's status in
national
legislation. Before performing this legal analysis, we provide an updated assessment of the jackal's historic presence in Europe and its recent expansion.
Method
The research for this paper combines a review of past and present golden jackal distribution with legal analysis. We used Arnold et al. (
2012
) as a basis regarding jackal distribution and expanded it to the Balkan region, which was mostly neglected in the former review (especially the countries of former Yugoslavia). We also reviewed recent literature concerning new golden jackal records, including grey literature and unpublished data. We were unable to obtain reliable information regarding exact distribution in Kosovo and Turkey. Therefore, for Kosovo we did not indicate data, although we are aware of jackal presence, and for Turkey we indicated approximate range in the northern part of the country according to Jhala and Moehlman (
2004
). Regarding the law, we primarily employed standard international and European legal research methodology (Trouwborst
2015a
). This methodology consists, in particular, of the identification and analysis of relevant legal instruments and their provisions, including their interpretation according to the applicable rules from the international law of treaties as codified in the 1969 Convention on the Law of Treaties (Vienna Convention). According to these rules, treaty provisions must be interpreted according to the ordinary meaning of their terms in light of the treaty's objectives, while taking into account any 'subsequent agreements' or 'subsequent practice' by the parties (Vienna Convention, Article 31). As subsidiary sources, we used relevant guidance adopted by treaty parties or international institutions, international case law, and law literature. In addition, we performed a review of the current legal status of the golden jackal in the
national
legislation of European range countries. Whereas our review of jackal distribution encompasses Europe at large, including the Caucasus, our legal analysis focuses on Europe west of the Black Sea, which is where the most intricate legal questions arise.
Results and discussion
Conclusions
From both a conservation and a legal perspective, golden jackals in Europe have been a neglected species, subject to many misconceptions. Our analysis shows that the notion of golden jackals being an alien species in most of Europe is one such misconception. It also shows that current international legal obligations limit the freedom of countries to decide how they wish to deal with newly arriving golden jackals. In EU member states in particular, the Habitats Directive imposes distinct limitations on national policy and management options regarding the golden jackal, including in scenarios where jackals are spreading to areas without historic records of their presence. As more and more species can be expected to expand beyond their historic ranges under influence of global environmental changes, our findings have implications also beyond the case of the golden jackal.
Acknowledgments
The authors gratefully acknowledge comments and/or information provided by Francisco Álvares, Janosch Arnold, Vaidas Balys, Ovidiu Banea, Wieslaw Bogdanowicz, Özgün Emre Can, Ellen Frank, Georgios Giannatos, Gjorge Ivanov, Peep Männil, Eric Marboutin, Janis Ozolins, Martin Šálek, Marina Shkvyria, Vadim Sidorovic, Aleksander Trajce, Fridolin Zimmermann and the anonymous reviewers. AT was funded by the Netherlands Organization for Scientific Research, as part of the project 'Ius Carnivoris' (Project no. 452-13-014). MK was funded by the Slovenian Research Agency (Grant no. P4-0059). JDCL was funded by the Research Council of Norway and the Norwegian Environmental Agency.
Conflict of interest
The authors declare that they have no conflicts of interests.
Open Access
This article is distributed under the terms of the Creative Commons Attribution 4.0 International License (http://creativecommons.org/licenses/by/4.0/), which permits unrestricted use, distribution, and reproduction in any medium, provided you give appropriate credit to the original author(s) and the source, provide a link to the Creative Commons license, and indicate if changes were made.