2017 | OriginalPaper | Buchkapitel
Legibility: Same for All Scripts!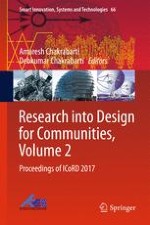 Erstes Kapitel lesen
Autoren: Subhajit Chandra, Prasad Bokil, D. Udaya Kumar
Verlag: Springer Singapore
Abstract
This paper aims to identify the appropriateness of various parameters identified previously to define legibility in the context of Latin script done for the context of Indic typefaces like Bengali and Devanagari. The analysis is based on anatomical features, gridlines, letter binding, letter support, direction of stroke, stroke density, and variance. The paper also discusses various challenges of Indic scripts in terms of letter identification with respect to visibility and familiarity. Finally, various design parameters for identification are proposed for measurement of legibility of Bengali and Devanagari. The insight of the paper is to make type designers and researchers aware of effective design parameters that are necessary to understand during the design of Indic typeface.