08.03.2017 | Aufsätze | Ausgabe 2/2017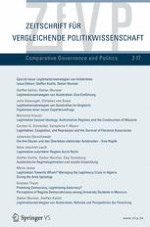 Legitimation beyond ideology: authoritarian regimes and the construction of missions
Zeitschrift:
Autor:

Prof. Dr. Marianne Kneuer
Wichtige Hinweise
A previous version of this paper has been presented and discussed with colleagues from the German Institute of Global Area Studies (GIGA) Hamburg during my stay as guest researcher in 2016. I thank the IDCAR colleagues and especially André Bank, Bert Hoffmann, Heike Holbig and Thomas Richter for their thoughtful comments. Likewise, I thank Raphael Peresson and Katya Wagner for their feedback on the empirical parts. Finally, this paper benefitted from the exchange with the guest publishers and the constructive reviewers' input.
Abstract
This article argues that neo-authoritarian regimes – meaning those autocratic regimes that emerged after the end of the Cold War and during the fourth wave of democratisation – do not recur to ideology for legitimising their regime as totalitarian regimes in the 20th century did. Three objectives will be pursued on a conceptual level: firstly, to make a case for a narrow notion of ideology that includes the theoretical findings of classic 20th century totalitarianism research and is linked to the totalitarian subtype. Secondly, to argue that Linz's feature of mentality is lacking discriminatory power for being an analytical category covering the legitimation basis of authoritarian regimes. And finally, thirdly, to introduce 'mission' as a concept that is defined as analytically different from ideology and characterises the legitimation efforts of authoritarian regimes in order to secure their persistence. An explorative analysis looks at the construction of such missions in three cases: Venezuela, Russia and China.