01.03.2012 | LCA ON NANOTECHNOLOGY | Ausgabe 3/2012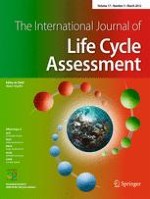 Life cycle assessment at nanoscale: review and recommendations
Zeitschrift:
Autoren:

Sheetal Gavankar, Sangwon Suh, Arturo F. Keller
Abstract
Purpose
The need for a systematic evaluation of the human and environmental impacts of engineered nanomaterials (ENMs) has been widely recognized, and a growing body of literature is available endorsing life cycle assessment (LCA) as a valid tool for the same. The purpose of this study is to evaluate how the nano-specific environmental assessments are being done within the existing framework of life cycle inventory and impact assessment and whether these frameworks are valid and/or whether they can be modified for nano-evaluations.
Method
In order to do that, we reviewed the state-of-the-art literature on environmental impacts of nanomaterials and life cycle assessment studies on ENMs and nanoproducts. We evaluated the major characteristics and mechanisms under which nanomaterials affect the environment and whether these characteristics and mechanisms can be adequately addressed with current life cycle inventories and impact assessment practices. We also discuss whether the current data and knowledge accumulated around fate, transport, and toxicity of nanomaterials can be used to perform an interim evaluation while more data are being generated.
Observations and recommendations
We found that while there is plenty of literature available promoting LCA as a viable tool for ENMs and nanoproducts, there are only a handful of studies where at least some parts of life cycle were evaluated for nanoproducts or nanomaterial. None of the LCA studies on ENMs or nanoproducts that we came across assessed nano-specific fate, transport, and toxicity effects as part of their evaluation citing the lack of data as the primary reason.
However, our literature review indicates that nano-LCA studies need not omit the assessment of nanomaterials' human health and environmental impact due to incomplete data. There is some evidence that scalability may exist in certain types of nanomaterial, and traditional characterization can be applied even below 100 nm up to the scalability breakdown limits. For the size range where the scalability cannot be established, it may be more appropriate to explore empirical relationships, though possibly crude, between nanomaterial properties and their impact on human health and environment. Empirical relationships thus derived can serve as valid input for assessment until specific data points for nanomaterial fate, transport, and toxicity become available. Finally, where there is no quantitative data available, qualitative inferences may be drawn based on the known information of the nanomaterial and its potential release pathways.