01.06.2015 | LIFE CYCLE MANAGEMENT | Ausgabe 6/2015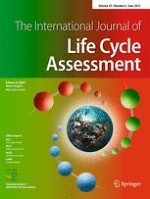 Life-cycle assessment framework for adaptation planning to climate change: linking regional climate impact with product design
Zeitschrift:
Autor:

Katsuyuki Nakano
Wichtige Hinweise
Responsible editor: Adisa Azapagic
Abstract
Purpose
An organization has to consider the influence from an environmental change, such as climate change, to its business activities. Life-cycle assessment (LCA) evaluates an impact
to
the environment; however, there is no LCA method to evaluate an impact
from
the environment. This study aims to develop a method for evaluating a relative potential impact from climate change to a product system using an LCA framework and to support adaptation planning.
Methods
This paper proposes LCA framework adaptation planning (LCA-AP) that can be applied to climate change. First, it identifies environmental drivers induced by climate change that impact human health and social assets. Second, an elementary flow from each environmental driver with potential impacts, such as freshwater use, is identified. Third, an activity requiring a large amount of the elementary flow is identified. The identified activity is a hotspot potentially impacted by climate change, and possible improvements are considered. LCA-AP is demonstrated by a case study of printing paper production.
Results and discussion
The current life-cycle impact assessment methods, such as water footprints and land use, evaluate impacts to the environment. In contrast, LCA-AP evaluates an impact from the environment, and the environmental mechanism is different. In LCA-AP, a practitioner has to calculate the impact for each country and has to do the same for the water footprint method. After hotspots are identified, the next step is to scrutinize an actual risk of climate change to a company's own product supply chain. Collaboration with a business partner may identify a risk and its countermeasure.
Conclusions
Application of LCA-AP to climate change was proposed, and its effectiveness demonstrated through a case study. LCA-AP evaluates a relative potential impact from climate change to a product system in an LCA framework at the product design stage. Existing LCA databases and software can be used to implement LCA-AP. The author recommends expanding the method to other environmental impact categories and developing a way to prioritize impact categories through damage assessment and weighting.