13.11.2017 | CHALLENGES AND BEST PRACTICE IN LCAS OF SEAFOOD AND OTHER AQUATIC PRODUCTS | Ausgabe 5/2018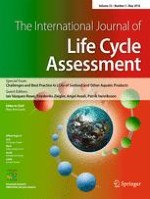 Life cycle assessment of aquafeed ingredients
Zeitschrift:
Autoren:

Catarina Basto Silva, Luísa M. P. Valente, Elisabete Matos, Miguel Brandão, Belmira Neto
Wichtige Hinweise
Responsible editor: Friederike Ziegler
Abstract
Purpose
This study performs an exploratory comparative evaluation of various animal and vegetable protein and lipid sources, used as feed in the aquaculture industry. The ingredients studied include fishmeal (FM) and fish oil (FO) from fisheries by-products, meal and fat by-products from poultry slaughter, FM and FO from Peruvian anchovy capture, and soybean meal and oil. The boundaries studied include the production or capture, the ingredient processing unit and the transport to the unit that processes the ingredients into aquafeeds in Portugal.
Methods
The LCA impact assessment method is the CML-IA baseline V3.04/EU25 and the results were obtained for the characterisation step. Some of the inventory data were collected from a Portuguese company (Savinor) that processes both by-products from local fisheries and by-products from poultry production. Savinor provided data specifically associated with the ingredients' production. Obtained data were complemented with literature data from: fish capture and poultry production. Inventory data for the production of ingredients from Peruvian anchovy and soybeans were retrieved from literature. It was assumed that the transport of the ingredients produced from Peruvian anchovy, between Lima and Rotterdam, is made in a transoceanic vessel, and it is considered a transport by truck between Rotterdam and Ovar, for soybean ingredients and FM/FO produced from Peruvian anchovy.
Results and discussion
This paper shows that poultry meal and poultry fat from poultry slaughter by-products have the larger contribution to all environmental impact categories evaluated, being the production of poultry the life cycle stage that contributes most to the overall categories. On the other hand, FM and FO from Peruvian anchovy were the ingredients with a lower contribution to all impact categories, except for abiotic depletion category, for FM from Peruvian anchovy, and abiotic depletion, abiotic depletion (fossil fuels) and ozone layer depletion for FO from Peruvian anchovy. For these categories, soybean meal and oil had lower impacts, respectively. The ingredients were compared by classes (protein and lipid sources).
Conclusions
A general conclusion is that soybean meal and oil and FM/FO from Peruvian anchovy appear to be very interesting options for aquafeeds from an LCA perspective. However, some limitations identified for this study, as, for instance, that it does not account for the environmental benefits associated with the use of the mentioned by-products, that would otherwise be considered wastes (i.e. by-products from the fish canning sector and poultry slaughter) shall be evaluated in future studies.