01.06.2011 | LCA FOR ENERGY SYSTEMS | Ausgabe 5/2011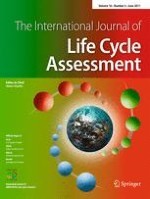 Life cycle assessment of automotive fuels: critical analysis and recommendations on the emissions inventory in the tank to wheels stage
Zeitschrift:
Autoren:

Florent Querini, Jean-Christophe Béziat, Stéphane Morel, Valérie Boch, Patrick Rousseaux
Wichtige Hinweise
Responsible editor: Wulf-Peter Schmidt
Abstract
Purpose
As new alternative automotive fuels are being developed, life cycle assessment (LCA) is being used to assess the sustainability of these new options. A fuel LCA is commonly referred as a "Well To Wheels" analysis and calculates the environmental impacts of producing the fuel (the "Well To Tank" stage) and using it to move a car (the "Tank To Wheels" stage, TTW). The TTW environmental impacts are the main topic of this article.
Materials and methods
Renault's cars pollutant emissions are measured on the New European Driving Cycle (NEDC) to comply with Euro regulations. The results have been used to show the variability of the emissions in the TTW stage. Five E85 flex-fuel vehicles were also tested to check their compliance with Euro standards, enabling to show the effect of an alternative fuel such as ethanol on pollutant emissions. Finally, Euro standard emission thresholds were transposed into environmental impacts to see how they affect TTW results.
Results and discussion
The TTW stage is very significant for the environmental impacts selected. The results show the unpredictable variability of the impacts between vehicles and when switching from gasoline to ethanol (E85). However, this variability is inferior compared with the differences between cars complying with different Euro standards.
Conclusions
Measured emissions on a car on NEDC cycle may not be suitable as the input data for TTW calculations. Euro standards associated with average fuel consumptions may be used as the basis for TTW impacts and should be chosen carefully in order to be relevant with the scope of the study. This leads to a functional unit, which is defined as the quantity of fuel needed to move a car that is representative of the average fleet that uses the fuel on 1 km.