2017 | OriginalPaper | Buchkapitel
Life Cycle Assessment of Greenhouse Gas Emissions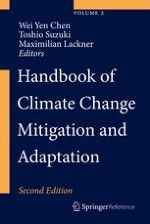 Erstes Kapitel lesen
Autor: L. Reijnders
Abstract
Life cycle assessments of greenhouse gas emissions have been developed for analyzing products "from cradle to grave": from resource extraction to waste disposal. Life cycle assessment methodology has also been applied to economies, trade between countries, aspects of production, and waste management, including CO2 capture and sequestration. Life cycle assessments of greenhouse gas emissions are often part of wider environmental assessments, which also cover other environmental impacts. Such wider-ranging assessments allow for considering "trade-offs" between (reduction of) greenhouse gas emissions and other environmental impacts and co-benefits of reduced greenhouse gas emissions. Databases exist which contain estimates of current greenhouse gas emissions linked to fossil fuel use and to many current agricultural and industrial activities. However, these databases do allow for substantial uncertainties in emission estimates. Assessments of greenhouse gas emissions linked to new processes and products are subject to even greater data-linked uncertainty. Variability in outcomes of life cycle assessments of greenhouse gas emissions may furthermore originate in different choices regarding functional units, system boundaries, time horizons, and the allocation of greenhouse gas emissions to outputs in multi-output processes.
Life cycle assessments may be useful in the identification of life cycle stages that are major contributors to greenhouse gas emissions and of major reduction options, in the verification of alleged climate benefits, and to establish major differences between competing products. They may also be helpful in the analysis and development of options, policies, and innovations aimed at mitigation of climate change.
The main findings from available life cycle assessments of greenhouse gas emissions are summarized, offering guidance in mitigating climate change. Future directions in developing life cycle assessment and its application are indicated. These include better handling of indirect effects, of uncertainty, and of changes in carbon stock of recent biogenic origin and improved comprehensiveness in dealing with climate warming.