01.11.2011 | LCA FOR ENERGY SYSTEMS | Ausgabe 9/2011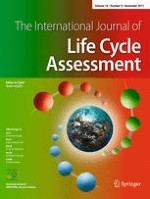 Life cycle assessment of mini-hydropower plants in Thailand
Zeitschrift:
Autoren:

Wannarat Suwanit, Shabbir H. Gheewala
Wichtige Hinweise
Responsible editor: Niels Jungbluth
Abstract
Purpose
The conversion of electricity in Thailand is mainly based on fossil fuels that account more than 90% of electricity generated in the country. The use of fossil fuels has large environmental impacts, and being largely imported, also affects the energy security of the country. From the oil shock situation in 1970s, there has been interest in renewable energy in Thailand resulting in the policy goal for the year 2020 to increase the portion of renewable energy to 20% of energy used in the country. Now, hydropower contributes a significant portion of the renewable energy in Thailand, and mini-hydropower (run-of-river type with capacity between 200 to 6000 kW) tends to be most attractive. This is particularly suitable for Thailand, and it is being applied at several locations. Thus, the overall life cycle assessment (LCA), from cradle to gate, of mini-hydropower plants needs to be assessed for quantitative evaluation.
Materials and methods
There are five mini-hydropower plants in this study. The inputs and outputs of materials and energy used since before construction stage to demolition stage are inventoried and assessed via LCA using the CML 2001 baseline methodology for impact assessment. The impact categories considered in this study are global warming (GWP), abiotic depletion (ADP), acidification (ACP), fresh water aquatic toxicity (FWAP), human toxicology (HTP), photochemical oxidation (POP), and fossil fuel resource depletion (FRP) potential. The functional unit used is 1 MWh electricity produced from mini-hydropower plants in Thailand, and the life span of the power plants is 50 years.
Results
For each of the environmental impact categories considered, the impact potentials were evaluated for each of the five mini-hydropower plants; 76.39–151.55 g Sb eq/MWh for ADP, 57.28–116.94 g SO2 eq/MWh for ACP, 11.01–23.01 kg CO2 eq/MWh for GWP, 23.01–52.05 kg 1,4-DB eq/MWh for HTP, 4.58–9.08 kg 1,4-DB eq/MWh for FWAP, 2.93–7.47 g C2H4 eq/MWh for POP, and 35.11–79.13 g Sb eq/MWh for FRP.
Results and discussion
The main contributors to the impacts are the huge amount of materials used for construction of the mini-hydropower plant; sand, gravel, cement, reinforcement steel, pressure pipeline steel, iron, copper, and electric equipment and energy used for construction activities, construction equipment, and transportation. The remoteness of the mini-hydropower plants and the requirement of importing electric equipment technology from overseas are significant contributors to the environmental impacts.
Conclusions and perspectives
The environmental "hot spots" are construction and transportation stage because of remoteness, huge amount of materials and energy use in construction period, and the use of imported equipment. Mini-hydropower plants do not only generate power, but being in hilly regions that are often quite scenic, can serve as public knowledge centers for renewable energy. Thus, the multiple purposes of mini-hydropower power plants should be utilized in the future. The proper management of environmental and social issues throughout the project cycle is essential taking into consideration the hydrological cycle and seasonal variations. Fresh water is a necessary resource for many living things and hence necessary to be managed wisely. These study results would serve as basic information for decision makers, environmentalists, and all stakeholders and provide a general picture of environmental impacts from mini-hydropower plants in Thailand.