01.04.2014 | CARBON FOOTPRINTING | Ausgabe 4/2014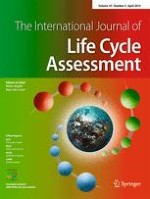 Life cycle carbon footprint measurement of Portland cement and ready mix concrete for a city with local scarcity of resources like Hong Kong
Zeitschrift:
Autoren:

Jingliang Zhang, Jack C. P. Cheng, Irene M. C. Lo
Wichtige Hinweise
Responsible editor: Holger Wallbaum
Abstract
Purpose
The construction sector was the second largest contributor of Hong Kong carbon emissions, and 85 % of the emission from construction was external in nature. The carbon footprint embodied in each building construction material varies considerably under different conditions. This study aims to quantify the embodied carbon footprint of building construction materials used in Hong Kong with the consideration of local factors and to investigate how the region-specific characteristic would affect the result.
Methods
A "cradle-to-site" system boundary was used, including raw material extraction, manufacturing, and transport until the material reaches the construction site. Data were collected from manufacturers in local and nearby regions. Portland cement and ready mix concrete were selected as examples in this study to demonstrate the calculation.
Results and discussion
It is indicated that for cement, decomposition of limestone contributes the largest to the total greenhouse gas emission over the life cycle, followed by fuel combustion. The surveyed cement plant performs at an average level in manufacture, but the import of raw materials increases the total emissions. For concrete, the major contributor is cement manufacturing. Comparison with other databases reveals that there is room for improvement in carbon reduction of the surveyed plants. The "cradle-to-site" results on cement and concrete show no significant difference from the "cradle-to-gate" results.
Conclusions
Hong Kong's dependency on imports increases the carbon footprint of locally used building construction materials. The presented methodology can be modified and extended to other materials, thereby helping lower the carbon footprint of construction activities by providing a benchmark for selecting green materials.