2013 | OriginalPaper | Buchkapitel
11. Life-Cycle Energy Consumption and Greenhouse Gas Emissions of Automotive Energy Pathways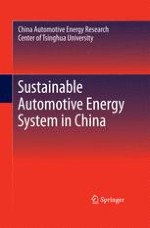 Erstes Kapitel lesen
Autoren: Ou Xunmin, Zhang Xiliang
Verlag: Springer Berlin Heidelberg
Abstract
In this chapter, a life-cycle analysis (LCA) of vehicle-fuel pathways covering the stages of resource extraction, fuel production, and utilization is conducted to examine the macro impact of China's road transport energy supply and related greenhouse gas (GHG) emissions.
Original Chinese data on feedstock extraction and process efficiency, process fuel mix, transportation mode and average distance, fuel production efficiencies, process fuel mix with transport, storage and distribution (TSD) modes, and average distances for oil-, natural gas (NG)- and coal-based fuels, electricity, and H2 pathways are all listed in the second part.
For different vehicle and fuel technology pathways, the fuel economy situation is presented by using gasoline spark ignition (SI) vehicles as the baseline.
By using a medium-size passenger car with an energy efficiency of 8 l of gasoline consumed per 100 km as the baseline model, the model calculates out the WTW fossil energy input and GHG emissions of the pathways for gas-based fuels, biofuels, coal-based fuels, electric vehicles, and fuel cell vehicles.