17.10.2016 | LCA FOR MANUFACTURING AND NANOTECHNOLOGY | Ausgabe 6/2017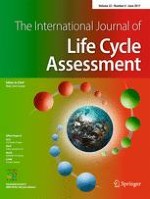 Life cycle environmental and economic assessment of lead refining in China
Zeitschrift:
Autoren:

Jingmin Hong, Zhaohe Yu, Wenxiao Shi, Jinglan Hong, Congcong Qi, Liping Ye
Wichtige Hinweise
Responsible editor: Peter Rudolf Saling
Abstract
Purpose
Lead is one of the most commonly used metals in the past millennium because of its various properties. Moreover, lead is easy to extract and handle. However, the lead industry often encounters strong public opposition because of lead poisoning. This study analyzes the economic and environmental impacts of lead in China, which is the world's largest producer and consumer of lead.
Methods
Life cycle assessment coupled with life cycle costing was conducted to estimate the environmental and economic impacts of primary and secondary lead refining in China. The internal cost (i.e., raw materials and energy consumption, labor, tax, interest, transport, infrastructure, depreciation, and maintenance) and external market price (i.e., carbon, ammonia, arsenic, COD, lead, mercury, nitrogen oxides, particulates, sulfur dioxide, and land eco-remediation) are considered.
Results and discussion
The overall environmental burden was mainly generated from the human toxicity and marine ecotoxicity categories for both primary and secondary lead refining scenarios because of the direct lead emission in the air and water. For the primary lead refining, the effect on metal depletion represented an additional dominant contribution to the overall environmental burden. The overall economic impact was mainly attributed to lead ore or waste lead, tax, labor fee, and emission cost of ammonia and chromium. In 2013, approximately 5.61 Mt CO2 eq, 5.81 Mt 1,4-DB eq, 6.59 kt 1,4-DB eq, 7.86 kt 1,4-DB eq, 1.82 Mt·kg Fe eq, 2.37 Mt·kg oil eq, and $9.9 billion were recorded from the lead industry in China in the climate change, human toxicity, freshwater ecotoxicity, marine ecotoxicity, metal depletion, fossil depletion, and economic impact categories, respectively. Additionally, approximately 0.4 kt lead, 18.4 kt sulfur dioxide, 15.6 kt nitrogen oxide, and 6.4 kt particulate emissions in the same year were released from the lead industry in China.
Conclusions
Approximately 57 to 96 % environmental benefits through waste lead recycling in all key categories were observed, whereas its economic benefit was low. The key factors that contribute in reducing the overall environmental and economic impacts include reducing direct lead emissions in air and water, increasing the national recycling rate of lead, replacing coal with clean energy sources for electricity production, improving heavy metal-removing technologies from mining wastewater, and optimizing the efficiency of electricity, lead ore, coal, oxygen, natural gas, and sodium carbonate consumption.