05.01.2021 | REGIONAL CASE STUDY | Ausgabe 2/2021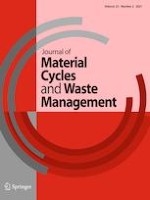 Life cycle environmental performance of two restaurant food waste management strategies at Shenzhen, China
Zeitschrift:
Autoren:

Qianqian Yu, Huan Li
Wichtige Hinweise
Publisher's Note
Springer Nature remains neutral with regard to jurisdictional claims in published maps and institutional affiliations.
Abstract
Restaurant food waste (RFW) can be separated from other municipal solid waste (MSW) for individual treatment or treated together with other MSW, and it is disputed which option is the optimal strategy for MSW management in the practice of Shenzhen, China. To weigh pros and cons of RFW separation, a hybrid life cycle assessment is conducted to compare (S1) all MSW incineration and (S2) individual anaerobic digestion of RFW and other MSW incineration referring to the real situation. The results show that S2 reduces 10.6% carbon emission than S1, mainly owing to higher heat value of incineration feedstock and higher yield of electricity. In addition, the cumulative energy demands of S1 and S2 are − 6290 and − 6544 MJ/t MSW, and their energy efficiencies are 67.4 and 70.3%, respectively. Moreover, RFW separation reduces acidic gases emission due to the substitution effect of more energy products. Overall, source sorting of RFW is a sustainable model of MSW management at Shenzhen, and the result provides quantitative support for the strategy of RFW separation from MSW.