01.02.2013 | LCA FOR ENERGY SYSTEMS | Ausgabe 2/2013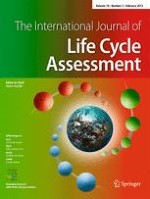 Life cycle greenhouse gas emissions of electricity generation in the province of Ontario, Canada
Zeitschrift:
Autoren:

E. Mallia, G. Lewis
Wichtige Hinweise
Responsible editor: Hans-Jürgen Garvens
Abstract
Purpose
This paper assesses facility-specific life cycle greenhouse gas (GHG) emission intensities for electricity-generating facilities in the province of Ontario in 2008. It offers policy makers, researchers and other stakeholders of the Ontario electricity system with data regarding some of the environmental burdens from multiple generation technology currently deployed in the province.
Methods
Methods involved extraction of data and analysis from several publically accessible datasets, as well as from the LCA literature. GHG emissions data for operation of power plants came from the Government of Canada GHG registry and the Ontario Power Generation (OPG) Sustainable Development reports. Facility-specific generation data came from the Independent Electricity System Operator in Ontario and the OPG.
Results
Full life cycle GHG intensity (tonnes of CO2 equivalent per gigawatt hour) estimates are provided for 4 coal facilities, 27 natural gas facilities, 1 oil/natural gas facility, 3 nuclear facilities, 7 run-of-river hydro facilities and 37 reservoir hydro facilities, and 7 wind facilities. Average (output weighted) life cycle GHG intensities are calculated for each fuel type in Ontario, and the life cycle GHG intensity for the Ontario grid as a whole (in 2008) is estimated to be 201 t CO2e/GWh.
Conclusions
The results reflect only the global warming impact of electricity generation, and they are meant to inform a broader discussion which includes other environmental, social, cultural, institutional and economic factors. This full range of factors should be included in decisions regarding energy policy for the Province of Ontario, and in future work on the Ontario electricity system.