01.07.2011 | LCA FOR ENERGY SYSTEMS | Ausgabe 6/2011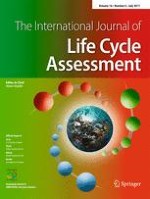 Life cycle inventory of energy production in ArcelorMittal steel power plant Poland S.A. in Krakow, Poland
Zeitschrift:
Autor:

Boguslaw Bieda
Wichtige Hinweise
Responsible editor: Niels Jungbluth
Abstract
Purpose
The goal of this paper is to describe the life cycle inventory (LCI) approach of energy produced by ArcelorMittal Steel Power Plant Poland (AMSPPP) in Krakow, Poland. The present LCI is representative for the reference year 2005 by application of ISO 14040: 2006. The system boundaries were labeled as gate-to-gate (it covered full process chain for energy production). Background data of inputs and outputs from the steel power plant have been inventoried as follows: consumption of energy and fuels, including: power coal (domestic), natural gas, blast furnace gas and coke oven gas, emission of air pollutants, emissions of particulate, air emissions from stockpiles, wastes, internal transport, and land use.
Main feature
LCI energy generation was developed mainly on the basis of following sources: site-specific measured or calculated data, life cycle assessment (LCA) study carried out by Polish Academy of Science in Kraków, AMSPPP Environmental Impact Report, Company and literature information and expert consultations. The functional unit is represented by 977 MW of generated electric and heat energies, distributed to ArcelorMittal Steel Plant processes and to the Krakow's grid. Time coverage is 2005. Operating parameters as well as air emissions associated with the power plant boilers were presented. The production data (steams: 9, 1.6, and 0.8 MPa, electric energy, degassing softening water, softening water heat, and blast furnace blow) were given. The emissions of SO
2
, NO
x
, CO, CH
4
, HCl, dust, heavy metals (Cr, Cd, Cu, Pb, Ni, and Mn), pollution factors (BOD
5
, COD) of waste water released from ash, slag, and sludge disposals were estimated. Finally, emission of CO
2
was calculated. Continuous monitoring of air pollutant emissions conducted in two emitter units related to 977 MW energy produced in AMSPPP was discussed.
Results and discussion
Related to 977 MW of energy production distributed by AMSPPP, the consumption of blast furnace gas, coke oven gas, and natural gas were 1,279.7, 47,441, and 2,080 Mm
3
/year, respectively. Other fuel consumption, power coal (domestic), was 315,680 Mg/year. The production data of steams: 9, 1.6, and 0.8 MPa were estimated at 3,689,640; 227,642; and 335,010 Mg, respectively. The volume of heat was about 1,529,610 GJ. Degassing softening water and softening water represented 1,066,674 and 2,124,466 m
3
. Electric energy amount was on the order 441,188 MWh, and resulting value of the blast furnace blow was 3,076,606,000 m
3
. Nominal powers of the power plant boilers ranged from 149 to 177 MW. Direct dust, SO
2
, NO
2
, and CO emissions into the air from seven boilers (Nos. 1–7) were 33, 159.9, 134, and 8 kg/h, and from boiler No. 8 (coal-only) were 17.70, 222.6, 112, and 1.11 kg/h, respectively. Total CO
2
emission was 1,802,902 Mg. Direct CO
2
emissions from burning of power coal, blast furnace gas, coke oven gas, and finally natural gas were 674,317, 1,084,797, 39,802, and 3,986 Mg, respectively. The amounts of SO
2
, NO
x
(expressed as NO
2
eq.) CO, CH
4
, HCl and dust emissions were 3,138.1, 2,648.5, 48.1, 575.08, 117.2, and 622.1 Mg, respectively. Contents of Mg, Cr, Cd, Cu, Pb, Ni, Mn in ash were on the order of 19.4, 1.8, 60, 50, 45, and 475 mg/kg, respectively (max. values, 28.4, 2.3, 75, 68, 59, 682, respectively). COD and BOD
5
ranged 1.2 to 17 and 10.9 to 42.7 mg O
2
/dm
3
, respectively. Contribution of power coal stockpiles to heavy metal emissions was relatively small. The amounts of ash–sludge mixtures and carbon volatile ash during stock of power coal were 53,078.1 and 11,272 Mg, respectively. Data concerning pollutants into air from continuous monitoring were not included due to a limitation of the available data. The time coverage of the data collected from continuous monitoring is 2006.
Conclusions
This is the first tentative study to express energy generation in industry in Poland in terms of LCA/LCI for the energy power in steel industry. The results of the study suggest that reduction of the amount of power coal leads to saving of primary resources and reduction of SO2 emissions, decrease land occupation caused by power coal stockpiles, and increase recovery of the blast furnace gas, as well as, coke oven gas surplus. The results may help ArcelorMittal Steel Plant government make decisions in policy making. Presentation of the study in this paper is suitable for the energy production processes, as well as other industries.
Recommendations and outlook
The LCI offers environmental information consisting on the list of environmental loads. The impact assessment phase aims the results from the inventory analysis to be more understandable and life cycle impact assessment will be the direction for future research. Another issue to discuss is integration of LCA and risk assessment for industrial processes.