09.11.2017 | Research Paper | Ausgabe 8/2018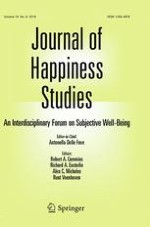 Lifespan Differences in a Self Determination Theory Model of Eudaimonia: A Cross-Sectional Survey of Younger, Middle-Aged, and Older Adults
Zeitschrift:
Autoren:

Corey S. Mackenzie, Eric C. Karaoylas, Katherine B. Starzyk
Abstract
Despite the myriad physical, cognitive, and social losses that are increasingly common as we age, a growing body of evidence suggests that aging is positively associated with mental health and well-being. The majority of this evidence is in the form of mental health, personality, and subjective/hedonic well-being outcomes; far less is known about lifespan differences in eudaimonic well-being. The objective of this study was to examine differences across three age groups in a relatively recent model of eudaimonia informed by self-determination theory that focuses on the process of living well, but also acknowledges outcomes of that process. In comparison to young (
n
= 66) and middle-aged adults (
n
= 66), older adults (
n
= 66) were especially likely to be living eudaimonically (i.e., to have intrinsic aspirations, goal autonomy, mindfulness, and basic psychological need fulfillment). The effect of age on well-being outcomes was mixed; the oldest group reported the highest levels of life satisfaction (hedonic well-being) but the lowest levels of purpose and growth (eudaimonic well-being) in comparison to their younger counterparts. As predicted by the model, basic psychological need fulfillment mediated the relationship between motivational constructs and well-being outcomes. Furthermore, the model applied equally well to younger, middle-aged, and older adults. Our results are consistent with recent theoretical models emphasizing the socioemotional benefits of aging, as well as potential challenges to well-being that exist in later life.