22.12.2016 | Original | Ausgabe 5/2017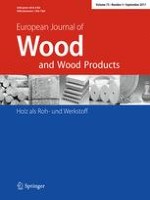 Light medium-density fibreboards (MDFs): does acetylation improve the physico-mechanical properties?
Zeitschrift:
Autoren:

Carsten Mai, Martin Direske, Dieter Varel, Andreas Weber
Abstract
Light medium-density fibreboards (MDFs) with a target density of 580 kg m3 were produced from fibres, which were obtained by defibrillation of chips of commercially available acetylated solid wood ("Accoya®"). The fibres were produced by thermo-mechanical pulping under industry-oriented conditions in a laboratory refiner. Infrared spectra showed that after the refiner process and board production, the material exhibited the same acetyl content as the initially acetylated solid wood. The fibres were bonded with 4 and 8% (related to the dry fibre mass) polymeric methylene diphenyl isocyanate and the properties of the obtained MDFs were compared with comparable MDFs from untreated Scots pine fibres which were produced under the same conditions. The modulus of rupture tended to be slightly lower for the acetylated boards, while the modulus of elasticity and the internal bond strength (IB) were equal for the respective resin loads. Acetylation clearly reduced the thickness swelling and the water uptake during immersion in cold and boiled water compared to the unmodified boards. IB after the boil test increased with acetylation and with the resin content. The study indicates that acetylated MDFs can be produced with maintained mechanical properties but strongly enhanced moisture-related properties by defibrillation of acetylated solid wood chips in a refiner and subsequent conventional board production.