17.05.2021 | Composites & nanocomposites | Ausgabe 23/2021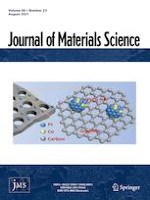 Light-weight strain sensor based on carbon nanotube/epoxy composite yarn
Zeitschrift:
Autoren:

Huan Ma, Yang Gao, Wei Liu, Farial Islam Farha, Kun Zhang, Lamei Guo, Fujun Xu
Wichtige Hinweise
Handling Editor: Gregory Rutledge.
Supplementary Information
Publisher's Note
Springer Nature remains neutral with regard to jurisdictional claims in published maps and institutional affiliations.
Abstract
Flexible strain sensors with high sensitivity are indeed critical for smart wearable devices, they are used for detecting the tiny deformation of human skin induced by pulse, heartbeat or throat vibration. Herein, to design a highly sensitive strain yarn sensor, we produced a carbon nanotube (CNT) composite yarn by partially composing CNT yarn with epoxy (EP)/acetone polymer solution through a quick coating process. By this process, core/sheath structured CNT composite yarn (C/S-CY) with a thin sheath layer of less than 2.50 μm was obtained. The composite yarn exhibited 145.9% improved tensile strength (308.7 MPa) compared with pristine CNT yarn. In addition, the C/S-CY showed high strain sensitivity (Gauge factor ~ 8.65) with a linear piezoresistive (~ 98% linearity) response during the tensile strain of 2%. The core/sheath structured CNT composite yarn maintained proper sensing and tensile performance after multiple stretching cycles (2% strain). The as produced C/S-CY could find its potential applications in detecting movement of the finger, elbow joint and facial micro-expression, which indicated the potential applications of this sensor yarn in wearable electronics, flexible smart devices, or soft multifunctional systems.