2013 | OriginalPaper | Buchkapitel
17. Lightweight Products by Load Optimized Profile Design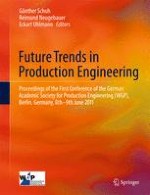 Erstes Kapitel lesen
Autoren: M. Storbeck, P. Beiter, S. Berner, M. Brenneis, W. Schmitt, P. Groche
Verlag: Springer Berlin Heidelberg
Abstract
The aim of lightweight design is the minimization of weight without harming load capability, stiffness and functionality. This can be realized by adapting material or structure. In general the stiffness to weight ratio of the complete structure has to be optimized. In the present paper, possibilities of three different continuous forming processes for the production of load adapted profiles in high strength steel grades are discussed with regard to lightweight design in mass production. Background for the analysis is a rectangular beam under load as exemplary structure.
A highly efficient process for beams and cantilevers in mass production is roll forming. Compared with other forming processes, classic roll forming offers a number of technical, economical and ecological advantages e.g. high productivity at low tool costs. However, the process is limited to the production of profiles with constant cross section in longitudinal direction and constant sheet thickness. Thus, conventional roll formed parts are suboptimal in terms of lightweight design. It is therefore preferable to overcome these process limits, aiming at optimized cold rolled sections with respect to load or package adaption e.g. profile geometries with variable height, variable sheet thickness or additional bifurcations for an increased stiffness.
In doing so, different requirements concerning process layout, workpiece, tool kit systems, kinematics and process control have to be fulfilled. The process restrictions are given by geometric properties of the semi-finished part, represented by a flexible cutting of the band edge or a non-constant sheet thickness distribution lengthwise (Fig. 1).
This variable geometry is now to be shaped within the flexible forming process. An adequate kinematic is needed in order to move and position the tools according to the flexible semi-finished part and to form the desired part geometry. Furthermore, variable blank geometries induce inhomogeneous bending as well as forming states and lead to geometrical deviations. These might be encountered with the help of numerical process control.
The paper introduces three different processes flexible roll forming, roll forming of tailor rolled blanks and flexible flow splitting which possess compared to conventional roll forming the ability to roll form the above mentioned semi-finished products into profiles with varying cross section in longitudinal direction. It presents issues concerning designing and dimensioning, different tool kit concepts and kinematics as well as process characteristics and optimization strategies to meet close tolerance demands within these three forming processes.