01.07.2019 | Composites & nanocomposites | Ausgabe 19/2019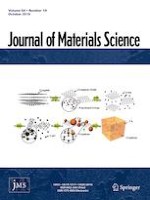 Lightweight TiC–(Fe–Al) ceramic–metal composites made in situ by pressureless melt infiltration
Zeitschrift:
Autoren:

Corson L. Cramer, Makayla S. Edwards, Jacob W. McMurray, Amy M. Elliott, Richard A. Lowden
Wichtige Hinweise
This manuscript has been authored by UT-Battelle LLC under Contract No. DE-AC05-00OR22725 with the U.S. Department of Energy. The United States Government retains, and the publisher, by accepting the article for publication, acknowledges that the United States Government retains a non-exclusive, paid-up, irrevocable, world-wide license to publish or reproduce the published form of this manuscript or allow others to do so, for United States Government purposes. The Department of Energy will provide public access to these results of federally sponsored research in accordance with the DOE Public Access Plan (
https://​energy.​gov/​downloads/​doe-public-access-plan
).
Publisher's Note
Springer Nature remains neutral with regard to jurisdictional claims in published maps and institutional affiliations.
Abstract
Lightweight ceramic–metal (cermet) composites combine stiffness and hardness with fracture toughness and ductility. TiC and Al are ideal pairs among lightweight cermet composites because of their relatively high strength-to-weight ratios, but these materials are hard to process in solid state or with Al melt infiltration without making an aluminum carbide phase, which is detrimental to mechanical properties. In this research, Fe is added to a TiC powder preform to reduce the activity of Al with TiC during Al melt infiltration and to aid in pressing TiC preforms, making a lightweight TiC–(Fe–Al) composite while avoiding other, unwanted phases. The composites are made by first pressing TiC powder mixed with Fe followed by Al melt infiltration; the result is a composite with high TiC content in a two-phase matrix, both of which are Fe–Al-based. The composite has low density, low porosity, high hardness, no detectable Al4C3 phase with X-ray diffraction and retains shape well during infiltration.