01.09.2014 | Original | Ausgabe 5/2014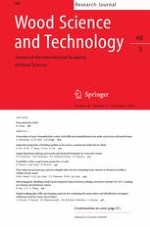 Lignin deposition during earlywood and latewood formation in Scots pine stems
Zeitschrift:
Autoren:

Galina F. Antonova, Tamara N. Varaksina, Tatiana V. Zheleznichenko, Victoria V. Stasova
Abstract
Lignin deposition at consecutive secondary wall thickening stages of early and late xylem cells during annual ring wood formation in Scots pine (
Pinus sylvestris
L.) stems was studied. Lignin patterns, isolated by thioglycolic acid method, consisted of alcohol-soluble (LTGA-I) and alkali-soluble (LTGA-II) fractions. The sum of two fractions, being the total lignin content, gradually increased in the course of lignification. However, the increments of lignin amount at each development stage of early and late tracheids were different. The intensity of lignin deposition increased in the course of earlywood tracheid maturation and decreased toward the end of latewood cell differentiation. The deposition of two lignin fractions in each layer of forming wood also occurred oppositely. The increment of LTGA-I descended, whereas that of LTGA-II increased from the beginning to the end of early xylem lignification. In contrast, LTGA-I increment dropped, whereas LTGA-II rose during late xylem lignification. Gel permeation chromatography showed that the lignins, formed at the beginning of lignification, were more homogeneous and had higher molecular weight compared with the lignins at the end of cell differentiation. Besides, the content of cellulose, estimated as the residue after lignin isolation, and of cell wall substances, presented as cell wall cross-section areas, at consecutive maturation stages of early and late xylem cells have been found to be different. The data show that lignin deposition occurred in different conditions and with opposite dynamics during early and late xylem formation.