2020 | OriginalPaper | Buchkapitel
9. Likelihood of Confusion: Legislative Harmonisation?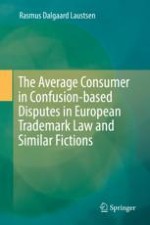 Erstes Kapitel lesen
Autor: Rasmus Dalgaard Laustsen
Abstract
This chapter analyses the legislative likelihood of confusion standard. Likelihood of confusion standards were found, before EU trademark legislation, in the UK, the Nordic countries and in the Paris Convention. These national standards impacted the international treaties, but also impact today's preliminary rulings of the Court of Justice.
The TM Directive clarified and added uncertainty to the likelihood of confusion standard, e.g. referring to the "part of the public" and laying the ground for the "global appreciation test."
The national legislative likelihood of confusion standards differ somewhat from that of the TM Directive, but there is a high degree of legislative harmonisation between the analysed national jurisdictions. Some essential gaps are inherently left though by the EU legislature for the European judiciaries when they apply the likelihood of confusion standard, including what role "part of the public" must play. These gaps have not been narrowed by the national legislatures.