01.04.2014 | Original Paper | Ausgabe 4/2014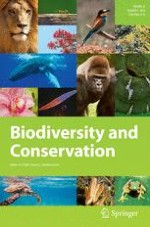 Limitations to the use of arthropods as temperate forests indicators
Zeitschrift:
Autoren:

Martin M. Gossner, Carlos Roberto Fonseca, Esther Pašalić, Manfred Türke, Markus Lange, Wolfgang W. Weisser
Wichtige Hinweise
Communicated by Nigel E Stork.
Electronic supplementary material
The online version of this article (doi:
10.​1007/​s10531-014-0644-3
) contains supplementary material, which is available to authorized users.
Abstract
Because arthropods dominate terrestrial ecosystems in species number and biomass, they can potentially play a major role as environmental indicators in applied ecology and nature conservation. We tested the suitability of arthropods as indicators for particular forest types based on a comprehensive standardized sampling of various taxa by different trap types in 93 mature temperate forest sites in three regions of Germany. We tested whether indicator species (1) can be derived for different forest types across regions, (2) are more widespread and more abundant than non-indicator ones, (3) belong to a particular taxon or trophic guild, and (4) are consistent between regions and years. Among 2041 sampled arthropod species, only four were significant indicator species for the same forest type in all region, and no single taxon or guild performed better than other groups. Indicators were generally more abundant and more widespread than non-indicators, but both abundance and distribution varied widely between species. When the analysis was repeated using data from the next year, indicator values of species significantly correlated between years, but the identity of more than 50 % of significant indicators changed, suggesting high among-year variability. We conclude that overall, arthropods did not turn out to be reliable indicators, at least at the scale of Germany. If anything, arthropod indicator species should be defined at the regional scale. Furthermore, indicators should be selected across taxa and trophic levels. Future evaluation of indicator species among arthropods should be conducted over several years based on standardized sampling protocols to develop a reliable definition of indicator species despite the high fluctuations in abundance of species among arthropods, which might either mask or overestimate the indicator value of particular species.