2016 | OriginalPaper | Buchkapitel
Limpopo Estuary Mangrove Transformation, Rehabilitation and Management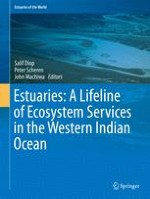 Erstes Kapitel lesen
Autoren: Salomão Bandeira, Henriques Balidy
Abstract
Limpopo River is among the most flood impacted rivers in southern and eastern Africa, having been flooded recurrently in many years. This paper deals with a successfully mangrove rehabilitation initiative in this river after floods in the year 2000 that devastated the estuarine mangrove. The flooding from upstream increased the width of the river from around 200 meters to several kilometers, drowning the mangrove forests for around 45 days, and causing sediment transformation and mangrove forest degradation, uprooting and dieback. The mean annual discharge of Limpopo River is usually 170 m
3
/s. However, during the floods of 2000, the river exhibited a peak upstream flash of 16 515 m
3
/s. River basin property and livelihoods were affected. The mangrove forest at Limpopo was, from the 1980's, known to cover only 387 ha, even though the Limpopo is the second largest river in Mozambique (after Zambezi). However, new recent research revealed a historical mangrove cover of 928 ha, of which 382 ha (41.2%) are quite pristine and 546 ha (58.8%) degraded. This prompted a mangrove rehabilitation in 2010 of with the species
Avicennia marina, Bruguiera gymnorhiza, Ceriops tagal
,
Rhizophora mucronata
and
Xylocarpus granatum, with
26.3 ha replanted with 94 453 seedlings out of 168 367 produced in the nursery (74% survival rate). The Centre for Sustainable development of the Coastal Zones (CDZ-ZC) is the focus institution in mangrove rehabilitation process, which provided the initial training on nursery and replantation techniques. This chapter provides also insights of community engagement in the management of the Limpopo estuarine mangroves.