2020 | OriginalPaper | Buchkapitel
5. Linear Elasticity: General Considerations and Boundary-Value Problems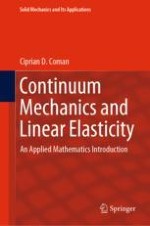 Erstes Kapitel lesen
Autor: Ciprian D. Coman
Verlag: Springer Netherlands
Abstract
In this chapter, we introduce the mathematical model for a linearly elastic solid and its associated boundary-value problems. This is achieved by a judicious particularisation of the general theory developed in the previous chapters; broadly speaking, the reference and current configurations will be assumed to be very close to each other (in a sense that will be made clear shortly). The upshot of this simplification is the linearity of the aforementioned boundary-value problems, which can then be solved by a number of indirect strategies involving:
superposition
,
semi-inverse approaches
, and the
Saint-Venant's Principle
. The last section touches upon some well-established approximations whereby a three-dimensional situation is reduced to a two-dimensional problem. These specific approximations are taken up in much greater detail in some of the subsequent chapters.