2015 | OriginalPaper | Buchkapitel
6. Linear Finite-Dimensional Stochastic Systems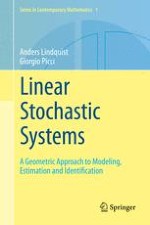 Erstes Kapitel lesen
Autoren: Anders Lindquist, Giorgio Picci
Verlag: Springer Berlin Heidelberg
Abstract
This chapter is an introduction to linear state-space modeling of second-order, wide-sense stationary, stochastic vector processes. In particular, we shall discuss modeling of discrete-time purely non deterministic processes with a rational spectral density matrix. These processes turn out to admit representations as the output
y
of a finite-dimensional linear system
$$\displaystyle{ \left \{\begin{array}{lcl} x(t + 1) &=& Ax(t) + Bw(t)\quad \\ y(t) &=& Cx(t) + Dw(t)\quad \end{array} \right. }$$
driven by a white noise input {
w
(
t
)}, where
A
, 
B
, 
C
and
D
are constant matrices of appropriate dimensions. These
state-space descriptions
provide a natural and useful class of parametrized stochastic models widely used in control and signal processing, leading to simple recursive estimation algorithms. Stochastic realization theory consists in characterizing and determining any such representation. This is in turn related to spectral factorization. The structure of these stochastic models is described in geometric terms based on coordinate-free representations and on elementary Hilbert space concepts.