2019 | OriginalPaper | Buchkapitel
10. LINGO Programs of Cancer Gene Analysis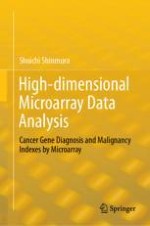 Erstes Kapitel lesen
Autor: Shuichi Shinmura
Verlag: Springer Singapore
Abstract
In "New Theory of Discriminant Analysis after R. Fisher" (2016), Shinmura had already explained LINGO Program1 in Chap.
2
. LINGO Program1 defines six MP-based LDFs such as Revised IP-OLDF (RIP), Revised LP-OLDF, Revised IPLP-OLDF, H-SVM, two soft-margin SVMs such as SVM4 (penalty c = 10000) and SVM1 (penalty c = 1). Everyone can evaluate six MP-based LDFs in the training samples at once. If you can understand these models, you can develop your bespoken models by yourself. LINGO Program2 can discriminate a small training sample by the Method1 instead of LOO method. If you can understand LINGO Program2, you can build the complex MP models to control several optimizable models with many datasets as arrays. LINGO can control the complex optimization models. In this chapter, we explained the Matryoshka feature selection method (Method2). This chapter explains LINGO Program3 in addition to Linus's Linear Discriminant Function. Section
10.1
introduces the role of three LINGO programs. Section
10.2
introduces LINGO sample model (DiscrmSwiss.lng) that is a sample model downloaded from LINDO Systems Inc. HP (
https://​www.​lindo.​com/​
). Everybody can download many fine models, manuals, textbooks, and evaluation solvers such as LINGO, What's Best! (Excel add-in), and LINGO/API (c libraries to develop bespoken models and systems) in free. In order to simplify the program, we assume that class1 has a discriminant score (DS) of 1 or more and class2 becomes −1 or less as explained in Chap.
1
. Then, it converts original data of class2 by multiplying by −1 and thinks that the extended DSs are judged correctly more than 1. The LDF introduced in this section can be used without converting a sign of class2 data. Section
10.3
introduces six MP-based LDFs. Section
10.4
introduces LINGO Program 3 of Method2. Section
10.5
introduces the validation of Method2 by LINGO Program1 using common data. Section
10.6
is conclusion.