2007 | OriginalPaper | Buchkapitel
Links Between in Utero Exposure to Pesticides and Effects on the Human Progeny does European Pesticide Policy Protect Health?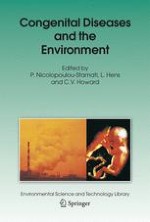 Erstes Kapitel lesen
Autor: C. Wattiez
Verlag: Springer Netherlands
There are many difficulties in establishing a causal link between exposure to chemicals and human diseases or disorders, when a mixture of chemicals is the causal factor under examination, and when controls have also some degree of contamination. Despite this, significant risk increases have been demonstrated for various congenital malformations including central nervous system, cardiovascular, urogenital and limb defects, and orofacial clefts, all of which have been shown after parental exposure to several or to specific pesticides. The same has been observed for intra uterine growth retardation and neurodevelopment impairments, involving short term or longer term functional anomalies. However, so far, epidemiological research has had very little influence on the authorisation of pesticides.
The adequacy of the risk assessment, which is the basis of the authorisation of Pesticides Directives, is questioned. The shortcomings in active substance regulatory testing are highlighted, together with the lack of consideration for combined effects, potential toxicities of formulated products, the poor consideration of vulnerable groups, and pesticide exposure evaluation deficits.
In order to compensate for the shortage of information and for the potentially large societal costs of filling this deficit, arguments are presented for the adoption of precautionary exposure reduction measures. These could include exclusion criteria based on pesticide intrinsic properties, the substitution principle and mandatory national pesticide dependency reduction programmes, with targets and timetables, accompanied by a significant promotion of low input crop production systems.
These cost effective precautionary measures, to prevent or reduce health impacts of pesticides, should now be considered for adoption as the revision of the plant protection products authorisation Directive and a Thematic Strategy on the sustainable use of pesticides are on the political agenda.