2011 | OriginalPaper | Buchkapitel
19. Liquid Association and Related Ideas in Quantifying Changes in Correlation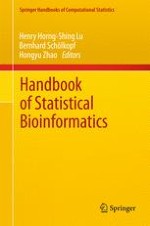 Erstes Kapitel lesen
Autor: Ker-Chau Li
Verlag: Springer Berlin Heidelberg
Abstract
This chapter describes a novel statistical concept of a ternary relationship between variables in a complex data system, coined 'liquid association' (LA) by Li (Proc Natl Acad Sci U S A 99(16):16875–16880, 2002).
LA describes how variation in the pattern of association between a pair of variables, including its sign and strength, is mediated by a third variable from the background.
LA is introduced because despite the many successful applications of similarity based analysis on microarray data, numerous cases where the functional association between genes is known from the literature (confirmed by experiments) but the statistical correlation from the corresponding expression data is practically zero also exist. Other than the noises in the microarray data, a deeper reason may be the
biological complexity
of the cellular system and the hidden components, which are not directly measured by gene expression, such as multiple functions of a protein, varying cellular oxidization-reduction states, fluctuating hormone levels or other cellular signals and so on.