2017 | OriginalPaper | Buchkapitel
36. Liquid Crystals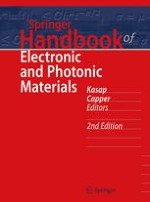 Erstes Kapitel lesen
Autoren: Geoffrey Luckhurst, David Dunmur
Verlag: Springer International Publishing
Abstract
This chapter outlines the basic physics, chemical nature and properties of liquid crystals. These materials are important in the electronics industry as the electro-optic component of flat-panel liquid-crystal displays, which increasingly dominate the information display market.
Liquid crystals are intermediate states of matter which flow like liquids, but have anisotropic properties like solid crystals. The formation of a liquid-crystal phase and its properties are determined by the shape of the constituent molecules and the interactions between them. While many types of liquid-crystal phase have been identified, this Chapter focuses on those liquid crystals which are important for modern displays.
The electro-optical response of a liquid crystal display (
LCD
) depends on the alignment of a liquid-crystal film, its material properties and the cell configuration. Fundamentals of the physics of liquid crystals are explained and a number of different displays are described.
In the context of materials, the relationship between the physical properties of liquid crystals and their chemical composition is of vital importance. Materials for displays are mixtures of many liquid-crystal compounds carefully tailored to optimise the operational behaviour of the display. Our current understanding of how chemical structure determines the physical properties is outlined, and data for typical liquid-crystal compounds are tabulated. Some key references are given, but reference is also made to more extensive reviews where additional data are available.